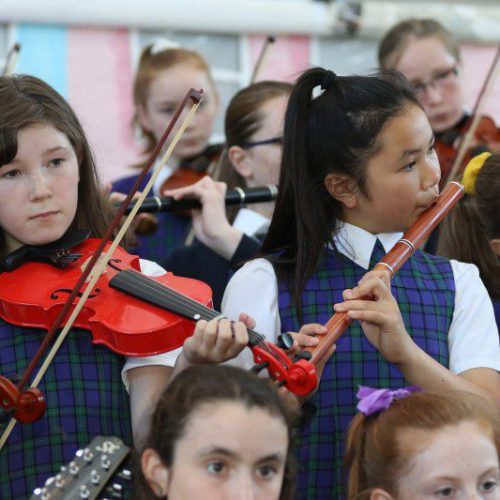 A Central Feature
Music is recognised as a central feature of our school life and culture. Each child from Rang 3-6 takes part in Cór na Scoile and we sing at various events during the school year, including sacraments, Christmas celebrations, St Patrick's Day mass agus different events at St. John the Apostle Church, Knocknacarra.
Children from Rang 4-6 are welcomed to join our school's music group where a wide range of instruments are played, such as the fiddle, accordion, concertina and mandolin. We practise weekly under the direction of Múinteoirí Deirdre, Eliosia and Máire. We are very proud of our musicians and the contribution that they make to our school events. The tin whistle is taught as part of the music curriculum from Rang 1-6 and children have the opportunity to attend fiddle lessons with the musician and teacher Tommy Keane each Friday during the school day.
2019 / 2020 Peace Proms
During the school year 2019/2020, Rang a 5 participated & performed in the Peace Proms Concert at the National University of Ireland, Galway. Peace Proms is a music education programme for primary schools, which promotes 'peace through music' throughout the island of Ireland. It was a fantastic opportunity for the children to work with the renowned musical conductor Greg Beardsell, along with accomplished singers, musicians & dancers. The children enjoyed learning songs such as 'A Million Dreams' from 'The Greatest Showman', along with choreographed dance moves to accompany Queen songs. It was an honour for parents to see their children perform with hundreds of children, accompanied by the Cross Border Orchestra of Ireland (CBOI). Greg Beardsell, one of the UK's leading conductors.
This made the Peace Proms Concert a night to remember and a once in a lifetime experience for all the children involved.