English Language
The English Language Curriculum is structured to make it easy for teachers to support children learning English.Learning Outcomes are used to describe the expected learning and development for the students. In the most recent Language curriculum you will see that;
Your child will have lots of opportunities to talk in class, give their opinion and express their thoughts and ideas. Children will also be given the opportunity to explore and offer their opinions on poems, stories and messages written by others.
Your child will be supported in making progress in oral language, reading and writing at a level and pace suited to them. The English Language Curriculum supports children with different learning strengths and needs.
The New Language curriculum highlights the importance of children developing their oral language skills as well as learning to read and write.
New Primary Language Curriculum for English
The curriculum used in primary schools is changing. The new Primary Language Curriculum for English (and Irish) is the first part of this. Children in junior infants to second class have already been experiencing this new curriculum. Soon your child in third to sixth class will also be learning through it.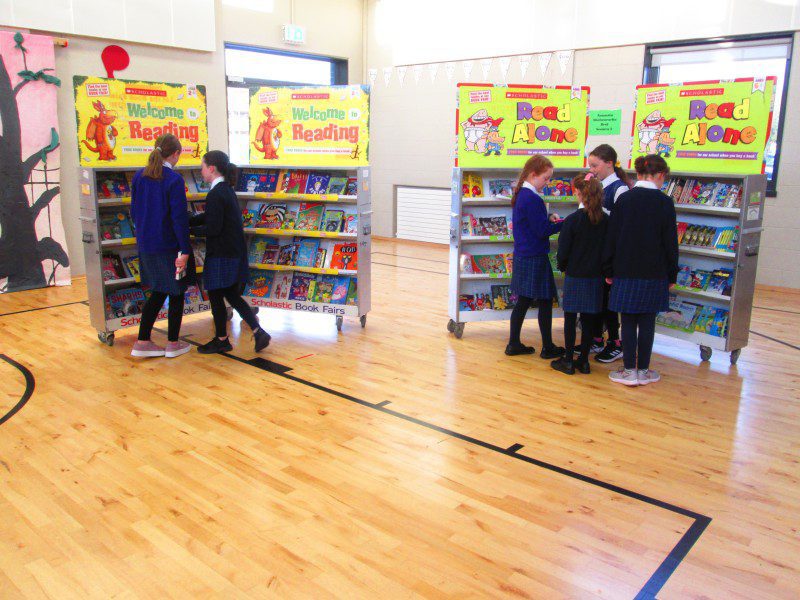 School Book Fair
In order to enhance a love of reading and books the school holds an annual Book Fair in which children get the opportunity to handle and read books and to meet an author,editor or reporter .
In recent years we have welcomed guests such as Pat Mc Grath Western Correspondent from RTE, Bernadette Prendergast from Galway Bay FM, Niamh Murphy editor for the Connacht Tribune to our school to read from one of their books or to speak to the children about their profession.
School Readathon
In order to develop fluency in reading and foster good habits like reading for pleasure we run an annual school readathon The Readathon which is run over 7 weeks has many benefits and is enjoyed by all the children while nurturing the skills the children have acquired in class. Teachers invite the children to write reviews and book reports on their favourite books.
Literacy Lift off & Reading Recovery
Children in Gaelscoil Mhic Amhlaigh participate in Literacy Lift Off. This is a programme that develops their reading comprehension and fluency in reading and writing. Reading Recovery is an early intervention programme that provides support for children in literacy. It is tailored to suit the individual needs of the child.